Road Tour Phila/South Jersey/Delaware February 11-12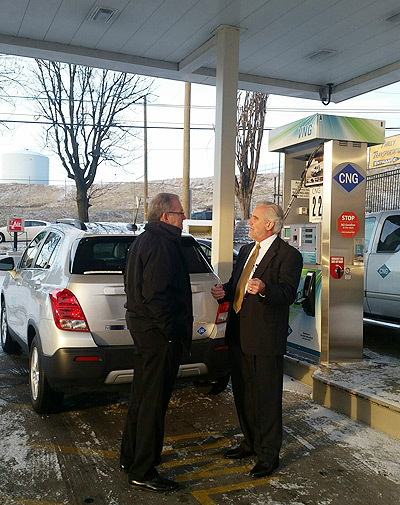 VNG COO Robert Friedman hosted us at their Bala Cynwood PA offices Wednesday afternoon and we took the opportunity to visit their Abbottsford Road BP CNG station the next morning with Regional Field Sales Manager Jack Stull, who's been building additional load via local commercial fleets While the frigid weather forced us into the C-store (where we gladly partook of some hot coffee and some Dunkin Donuts), the cold weather was no problem for our dedicated CNG Trax®, which ran like a charm.
Next up was a trip across town to PGW headquarters where the gas utility's NGV market development lead (and Eastern PA Alliance for Clean Transportation Board member) Caroline McCallum organized a gathering of her associates from fleet and materials procurement, major accounts and energy technologies. Thanks to the entire group for their time and interest (and the warm garage to check out the Trax® J)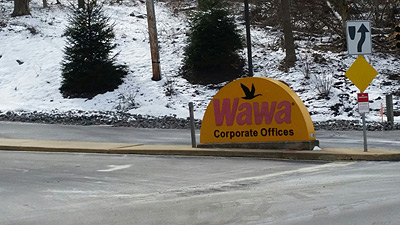 Just a short hop and skip away was our next visit – with Bill O'Donnell of the Wawa Food Markets fuel team…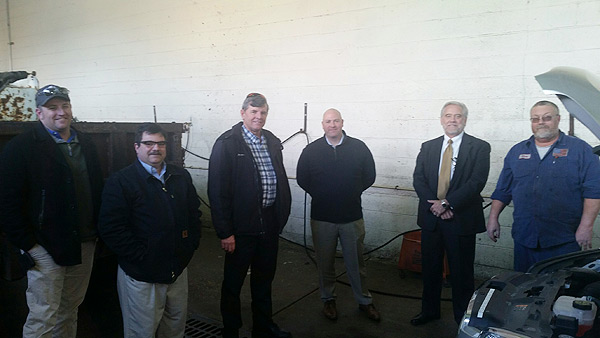 Then across the Delaware to South Jersey Gas' Glassboro CNG station, where Dan Carter helped us top off the tank before he and associate Pete Morano introduced us to the borough's Public Works/Fleet team (pictured l-r: Chip Clark, Morano, Russell Clark, Carter, Wagoner and lead CNG technician Chris Tornblom).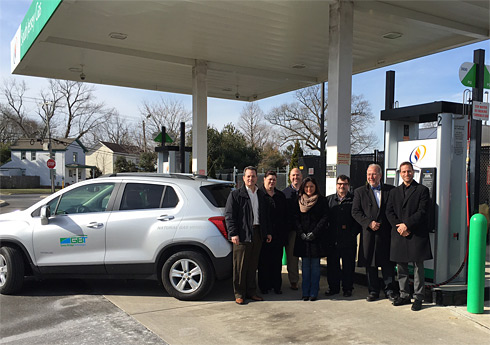 "South Jersey Gas' Glassboro CNG station was a busy place on Friday with a number of local and regional fleet customers stopping for fuel there. Several local political leaders and customers also stopped by to see the CNG Trax® and ask questions. Pictured (l-r) are South Jersey Gas' Todd Gordon (Major Accounts), Kimberly Conover (Supervisor, Purchasing & Fleet), Dan Carter, Gloucester County Freeholder Heather Simmons, Pete Morano, Stephe Yborra (Y&A), and Anthony DiFabio, President of Robin's Nest.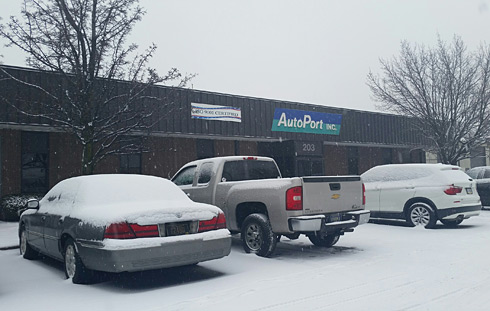 "The weather continued to worsen but our AWD CNG Trax® handled the ice, sleet and snow with no problem. While passing through Delaware, we took the opportunity to visit GBT installer AutoPort Inc in New Castle, DE…. Nice to show the vehicle off INDOOR. Checking out the installation quality are (l-r) AutoPort's Mike Tancraitor, Fleet & Commercial Sales Manager, John Orr – Operations Manager – Modifications and Conversions, and Dick Johnson -Director of Business Development.
We wrapped up the week with a visit to Bucks County Transport in Bristol PA. BCT is a non-profit that operates a number of CNG shuttles out of their Bristol depot and is considering the CNG Trax™ for inclusion in its medical appointments transportation service. Here, BCT Fleet Manager Ed Hackett checks out the 8.58 GGE CNG cylinder – with an average 30mpg, the Trax®'s 250+ mile range is plenty for his drivers' needs.