The Energy Independence Summit in Washington DC February 8-10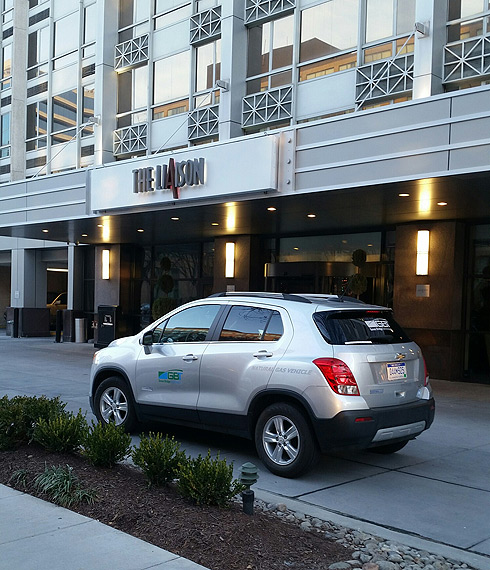 The CNG Trax® on display in front of the Liaison Hotel, site of Monday's Energy Independence Summit sessions, where several dozen CCCs and others interested in advancing clean-air/clean-transportation policies got a chance to check us out during breaks!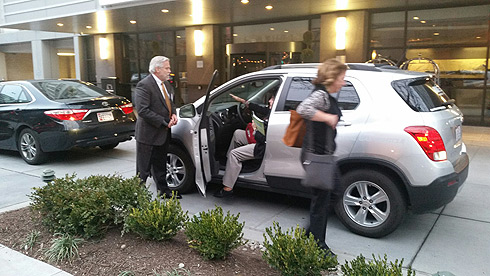 GBT VP of Sales Brad Wagoner fielded a few questions from Utah Clean Cities Coalition's Robin Erickson while her UCCC associate Tammie Cooper does the walk-around…. Feedback on this sporty, fuel efficient compact SUV was really great!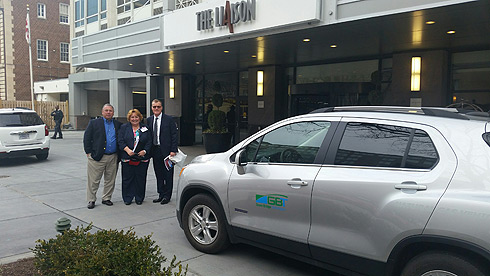 After giving the Trax® a thorough looking over, Greater Long Island Clean Cities Coalition's Rita Ebert, New Jersey Natural Gas' Tom Condon and CWI's Charlie Ker gave this a big thumbs up.
---

After a great visit with Arlington County Equipment Bureau Chief Chris Allison, we took the Trax® over to Washington Gas HQ where a bunch of the fleet team gave us a thorough review including…. a look from down under and a test drive by WG Director of Facilities, Real Estate and Transportation Stephen Laurine and Manager Transportation Fleet, Michele Bowles. Pictured in top photo are (l-r) Laurine with GBT's Brad Wagoner; Bowles (in back) and members of her staff: Lynn Jones, William Stevens, Jeb Jones, and Dwight Raines.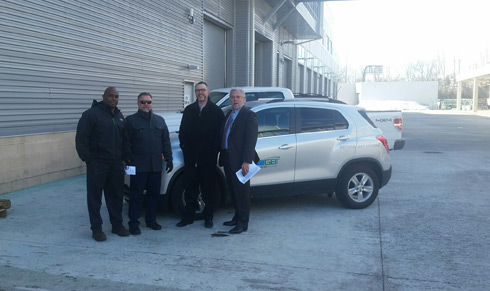 After attending the last of the Energy Independent Summit sessions in DC with Clean Cities Coordinators and reps from US DOE, EPA and DOT, the GBT road tour traveled up to Gaithersburg Maryland to meet with key execs from the county's Department of General Services – Fleet Management group. Pictured here with GBT's Brad Wagoner (right) are Calvin Jones – Fuel Manager, Michael Atkinson – Section Chief, Materials Management, and Bill Griffiths – Division Chief….. Montgomery County has been a leader in facilitating NGV deployment, most notably the county's sizeale (75+) CNG Ride-On transit bus fleet and dozens of CNG refuse trucks…. Impressive operations run by an impressive team of fleet pros.
Best Regards from your road warrior…
On to Philadelphia tomorrow!