EVENTS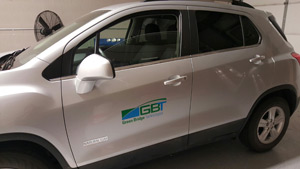 GBT is taking this dedicated CNG Chevy
Trax® on tour February 8th -March 10th.
Stay tuned for more pics and news about
our trek!
GBT NYC Fleet Event
May 12
DC/MD/NOVA
February 8-10
Phila/South Jersey/Delaware
February 11-12
North Jersey
February 15-16
NYC/Long Island
February 17-18
Connecticut
February 19
Albany/Syracuse/Buffalo
February 22-23
Pittsburgh/Cleveland
February 24
Columbus
February 25
Dayton
February 26
Indianapolis
February 29
Chicagoland
March 7-8
GREEN BRIDGE TECHNOLOGIES, LLC EMBARKS ON SECOND
MULTI-CITY ROAD TOUR AS PART OF BRAND LAUNCH
April 22, 2016 (New Hudson, MI) – Green Bridge Technologies, LLC (GBT), the NGV division of leading alternative fuels systems manufacturer ICOM North America, will commence a Southeastern Road Tour May 2nd, taking a dedicated CNG Chevy Trax® through Alabama, parts of Georgia, Florida, Tennessee, and North Carolina before wrapping up in Virginia June 10th.
GBT is the exclusive North American assembler and distributor of Crazy Diamond Performance™ NGV systems. In addition to the Chevy Trax®, other dedicated CNG vehicles available through GBT include the Buick Encore®, Chevy Cruze® and Chevy Sonic®, all featuring Crazy Diamond Performance™ ECODrive™ technology.
This regional tour, the second in a series that GBT is undertaking as part of the company's launch of the brand, follows one that took place earlier this year throughout more than 30 Mid-Atlantic and Midwest cities before culminating back at GBT's headquarters in New Hudson, Michigan.
"Regional road shows give us an opportunity to introduce our brand and Crazy Diamond Performance™ vehicle line-up to prospective fleet customers and to our Clean Cities Coalition and natural gas company allies," says GBT CEO Albert Venezio. "These sub-compact and compact sedans and SUVs fit a niche that no other NGV supplier currently fills," adds Venezio, noting that the company is fielding inquiries from many fleets looking for light-duty options other than – or in addition to – pick-ups or vans. "Our current line-up of sedans and compact SUVs are great for utility sales reps, transit field supervisors, university and airport security patrols, code officials and other government personnel," says GBT Chairman Ralph Perpetuini, adding that these fleets' environmental and sustainability goals have not been derailed by temporary declines in gasoline prices. "We're proud to offer CNG vehicles that are among the cleanest combustion vehicles in the world," says Perpetuini. All GBT's initial vehicle offerings are EPA-certified to Tier 2 Bin 3 emissions levels.
The Trax® is a compact SUV with the fuel economy of a car and the versatility of a full size SUV. Its highly efficient and super clean 1.4L turbo-charged engine delivers 130Hp/150ft-lb torque and, with 35/25mpg (highway/city) fuel economy, its 8.5GGE fuel capacity easily translates into a range of 250+ miles. The Buick Encore® is powered by a turbo-charged 1.4L engine, and the Chevy Cruze® and Sonic® platforms are offered with either 1.4L turbo or 1.8L naturally aspirated natural gas engine. Additional GM platforms are in development and certification testing with GBT partner Crazy Diamond Performance™, including the Silverado and Sierra HD 2500/3500 with 6.0L Vortec engine.
---
NEW NGV COMPANY, GREEN BRIDGE TECHNOLOGIES, LLC LAUNCHES OPERATIONS WITH MULTI-CITY ROAD TOUR
February 8, 2016 (Washington, DC) – Green Bridge Technologies, LLC (GBT), the new NGV division of leading alternative fuels systems manufacturer ICOM North America, launched their brand here today in conjunction with Transportation Energy Partners' Energy Independence Summit (EIS). The three-day event raises awareness among federal policymakers about alternative fuels and AFV technologies and how they help the nation move to more environmentally sustainable energy use while reducing dependence on imported oil. At EIS, GBT representatives are showcasing a dedicated CNG Chevy Trax®, one of GBT's dedicated CNG vehicle line-up which also includes the Buick Encore®, Chevy Cruze® and Chevy Sonic®, all featuring Crazy Diamond Performance™ ECODrive™ technology. The event is the first stop on a 30-day road tour that will travel up the Mid-Atlantic coast through MD, DE, eastern PA, NJ, NY and CT before heading west through upstate New York and down through Pittsburgh before heading on to Ohio, Indiana and Illinois and back to the company's base in New Hudson, Michigan.
Read full press release
---
GREEN BRIDGE TECHNOLOGIES AND CRAZY DIAMOND PERFORMANCE ENTER INTO NGV SALES AGREEMENT
September 9, 2015 (New Hudson, MI) – Green Bridge Technologies, LLC (GBT), the NGV division of leading alternative fuels systems manufacturer ICOM North America, and Crazy Diamond Performance™ (CDP), a highly-respected gaseous fuels engine development and calibration firm, entered into an exclusive sales, assembling and distribution agreement today, according to company officials. Under the new agreement, CDP's current and future line-up of dedicated CNG light-duty vehicles featuring CDP's advanced ECODriveTM fuel systems will now be marketed, sold and serviced through GBT's vast distribution network throughout the United States.
Read full press release